The September 6th championship rounds are now posted...

...Both a rain (single elimination) and the planned 12-team double elimination schedules.


*********************************************************


*** The CSL League ***



A special thanks to the Fairfax County Supervisors and
Department of Community and Recreation Services
for making this year's tournament possible.



Congratulations to the 2013 Champions: DICK TATERS
Runners-Up: La Flama Blanca | Third Place: 10K Men/Women of Harvard | Fourth Place: All Vols

The Congressional Athletic Association is a non-commercial, recreational organization which organizes softball teams
from the U.S. Congress, Federal agencies and private companies and organizations.

| | | |
| --- | --- | --- |
| | | |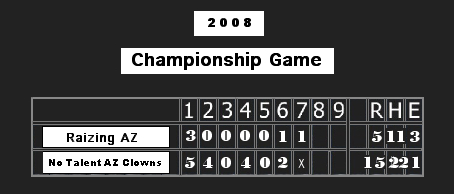 Attendance at the ball park:

Free counters provided by Andale.

---
CSL Web last updated 2/2/2014 - For problems, suggestions or ideas for this web site, contact the Webmaster - Richard Bell-Irving
For League issues, contact the Commissioner
All text, images and techniques © 1998-2014